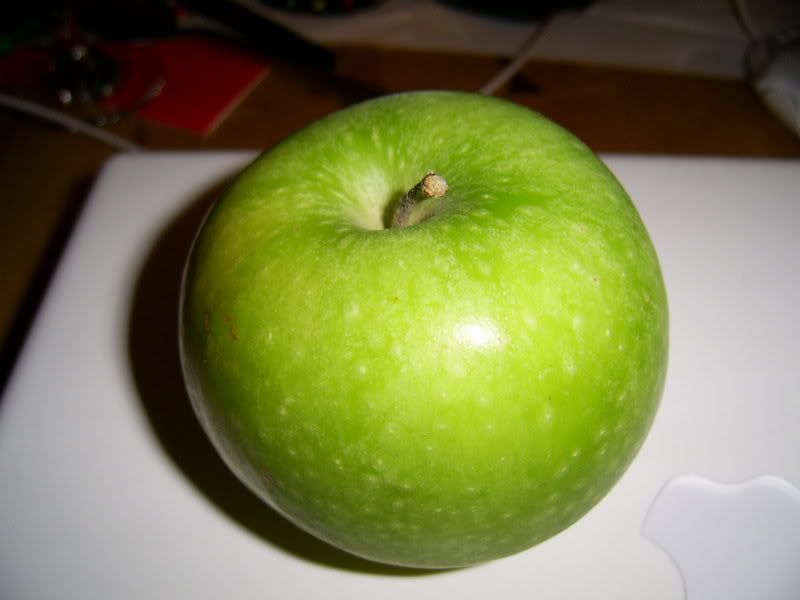 Look at it. On the face of it, it's perfectly normal. But to me, it's nerve-fraying to the extreme.
My work on Friday was a place of total insanity because of this apple, and others like it. For a start, the sight of 40 people all simultaneously eating apples is fairly creepy. The new girl turned around to find the Viking in some kind of wicket-keeper pose behind her, while her neighbour was trying to fit a whole apple in his mouth. Apparently he was waiting to catch the debris. Several people choked trying to eat their apple faster. People had actually chosen these apples in favour of chocolate, for god's sake, there really must have been something dodgy in them.
More frightening and probably most incomprehensible was the Gentleman's contribution to the situation. A sizeable amount of time had passed since one chap had tried to inhale his apple. The Gent went up to him, saying (and I quote): "Hey, you know when you choked on that apple, ha, well it gives a whole new meaning to the phrase 'how do you like them apples'! HAHAHAHAHAHA!"
Umm.
I've always thought there was something wrong about apples. Take original sin – so Eve claims the talking, walking snake told her to eat it. An apple-induced hallucination? And think of all the poisoned/drugged apples being chucked around the place in fairy tales. Snow White was a total mug. And just think, the whole of the Trojan War might have been averted if it hadn't been for that pesky golden apple. Actually, I'm of the opinion that this was a nectarine, but it's an apple-shaped fruit-based snack and could still have caused the resulting goddess hysteria.
Then again, lots of apple derivations are trouble. Take the pomegranate – seeded apple – responsible for winter (Persephone and all that). The tomato – love apple – responsible for many flushed Victorian cheeks. Potato – earth apple – responsible for worldwide obesity.
I tell you, they're evil, they should be banned. Or people should get some imagination and not name everything vaguely round and edible a something-apple. Either or.