I'm now back from THE WEEKEND WITHOUT YARN [thunderclap, howling wolves, etc.], but still lacking a project. So here's a random post I found in my drafts folder. As I recall, I'd just flipped from one argument on Ravelry about how acrylic melts babies, into another about how 'fancy' yarn was a waste of everyone's time and we should all be happy with dishcloth cotton. It was a lot angrier before today's edit. 😀
My feelings on yarn have evolved over time. When I started knitting for serious, I went to the Indoor Market and bought a bagful of acrylic. There was nothing else there, except for some limp dishcloth cotton. And the novelty yarn.
Oh yeah. You bet I bought it. I used all of it.
I quickly discovered that acrylic isn't terribly pleasant for me to wear. I apparently have super-special-snowflake skin that does not like unnatural fibres next to it. So I moved onto wool, and thence to alpaca. Now I'm pretty keen to try out all the fibres I can (I just bought my first angora mix, by which I'm quite excited). I want to make more stash-in-shape-of-animal-from-whence-it-came shots.
I understand that other people might be against my preferred yarns on ethical, allergic or other grounds, and that's fine by me. So I was all the more shocked when I saw the snobby, rude reactions some knitters (and crocheters) have to other people's yarn choices.
Sometimes, they'll give good advice. Don't use x yarn for socks, you'll never be able to wash them, or don't use x fibre for a jumper, as it just won't hold the shape. But sometimes…  It's not enough to simply say 'it's not to my taste', or 'I prefer x yarn', the offending yarn must be disparaged in terms of despising, or loathing. Ideally those that like it must be belittled also – 'I can't imagine why anyone would like Wollmeise, they're only buying it because it's fashionable, silly sheeple', 'I suppose acrylic is fine for beginners, but real knitters use real wool'.
Argh.
I know that the vast majority of knitters are 'ooh shiny yarnz yay!' and couldn't care less about what other people are using. But I think it's important to stress that the loud, over-opinionated few who try to impress their opinions on others are just plain wrong. And what do we do when that happens?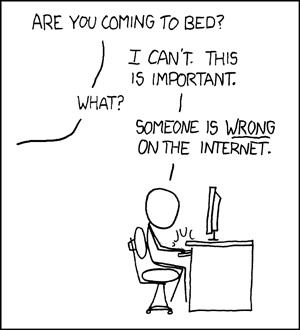 duty calls – xkcd
So now we come to the point of this post. I want to reassure the beginning knitter, before or after they stumble into a den of yarn snobs, that it's ok. Really. Use whatever yarn you want. Don't let the grumblings of a few over-opinionated chumps put you off. You might keep using acrylic til the day you lay down the needles, or you might decide you only ever want to knit yarn spun from the tails of unicorns. Someone will find fault with either decision; so ignore them, and use whatever you want.
LET'S ALL BE HAPPY AND EXCELLENT TO EACH OTHER and pet yarn *pet pet pet*.